Discover the first monitoring cloud system for your air conditioning system. Access through your smartphone or tablet wherever you are.
The project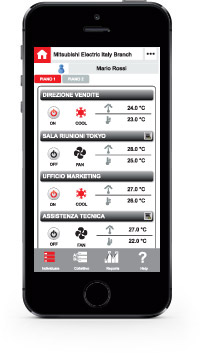 RMI springs from the intuition of Mitsubishi Electric to offer its clients the possibility to apply portability to the management of your system, thus increasing its value.
RMI is the FIRST and NEW system based on Cloud Computing, a technology that allows you to interact with your system thanks to simple yet protected Internet connection.

RMI allows remote management, as well as energy-consumption monitoring and maintenance of Mitsubishi Electric's air-conditioning systems through the apps for Smartphones and Tablets (operating systems IOs and Android) and through the dedicated area WEB CLIENT on PC.
RMI system is based on a dedicated infrastructure (RMI server) similar to a container for the system's data that are aggregated and made available simply and intuitively: data are modulated and represented according to the type of client who wants to analyse and use them.
The project was designed with the aim of safeguarding both the system's and the client's data from uncontrolled access by means of a protected VPN (Virtual Private Network) connection.