Discover the first monitoring cloud system for your air conditioning system. Access through your smartphone or tablet wherever you are.
How it works

The centralised control WEB Server (G-50, GB-50, GB-50ADA, EB-50, AG-150) plays a crucial role in scanning and collecting data through data transmission buses 'M-Net' that involves all the components of the CITY MULTI system, as well as of Mr. Slim or Residential.
A Router (available in both high-speed cable version or 3G Mobile) establishes the protected communication channel to RMI Server.
RMI Server's modularity and flexibility allows storing and managing a huge amount of data that are collected, processed and aggregated to be accessible in portability.
Such complexity in terms of infrastructure, processing capability, management and security is translated into very intuitive concepts in order to help the user optimise the energy-efficiency of their system.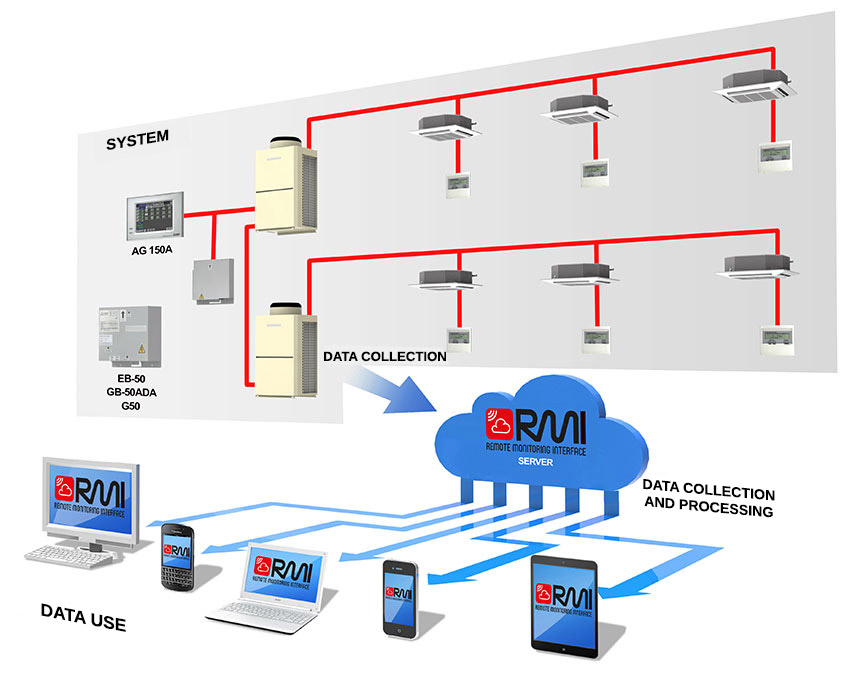 User
Once having logged-in using their Pc, Smartphone or Tablet, the user can interact with their system/s enjoying a unique user-experience according to the device they're using.
Thanks to RMI MULTI-TENANT, the user can set that allows the creation of sub-users, assigning them a portion of the system.